Old Man Proves He's Still Got It at The Lodge in Dallas after 100 Years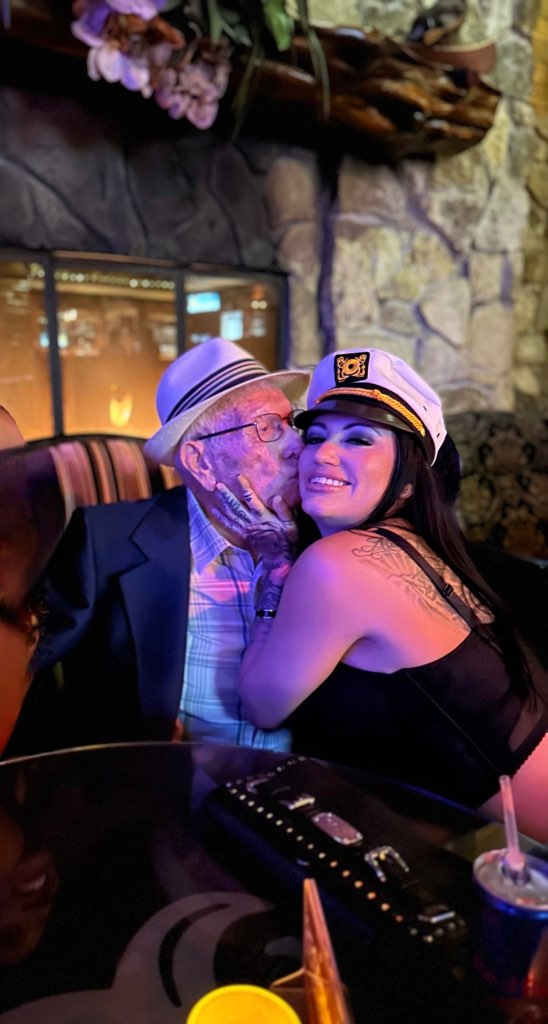 Dallas, TX – November 8, 2022 – The Lodge gentlemen's club in Dallas recently celebrated their oldest guest for his 100th birthday on Monday, October 31, 2022.
Giochianno Poma, known as "Jack," a Sicilian resident in Dallas and an active member of his church, was welcomed with open arms and bouncing chests to celebrate his centennial birthday. "He's such a ladies man," gushed waitress Lisa Benn, who said he charmed all the dancers working that shift.
Jack had droves of ladies clamoring to sit with him and avidly enjoyed their company. Jack came with his daughter and a friend and proved that his love of ladies is not waning… not one bit.
"He's perkier than my oldest regular, who's 88," exclaimed Arianna, an entertainer. "And lots more engaging," dancer Harley chimed in. "He's definitely an Italian Stallion" they all giggled.
Jack's wife died at 91 years old and his most recent girlfriend, who was 99, just passed. He claimed they had a very active sex life until the end and wanted to be around gorgeous ladies once again now that he is newly single.
The Lodge says he's always welcome there to be entertained.
According to the website, The Lodge is a Dallas Fort Worth cabaret and has, "earned the reputation of being the best Dallas cabaret since 1996, and since then has been acclaimed by the New York Times, USA Today, the Wall Street Journal, Newsweek, Thrillist, GQ Magazine, Maxim Magazine, Howard Stern, the Texas Tribune, The Travel Channel, and more by setting the national standard for beauty, integrity and class. The Lodge has also received notoriety awards including Best Club in the Nation, Best Club in the Southwest, and Gentlemen's Club of the Year." The website mentions the club's availability for bachelor parties, divorce parties, birthday parties, entertaining clients, business meetings, bottle service, and fine dining – including steak, lobster, wine and premium spirits.
Parties interested in learning more about celebrating any occasion are encouraged to contact The Lodge through its website or the contact information contained in this release.
Social media:
https://www.facebook.com/thelodgedallas
https://twitter.com/thelodgedallas
https://www.instagram.com/thelodgedallas/
https://www.youtube.com/channel/UCtrOVkB9ixlvc6iPhn-Cus
Google Map of The Lodge: https://goo.gl/maps/7VueKjDx7NFqwYh58
Media Contact
Company Name: The Lodge
Contact Person: Dawn Rizos
Email: Send Email
Phone: (972) 506-9229
Address:10530 Spangler Road
City: Dallas
State: TX 75220
Country: United States
Website: https://www.the-lodge.com/