Harmonix, MTV Games, and Electronics Arts have finally revealed a release date for 'Rock Band' for the Nintendo Wii: June 22. The game is like the well-known "Guitar Hero" franchise but includes more instruments for gamers.
Digital Journal -- The June release of Rock Band for Wii takes place in Canada and the U.S., and music fans can get their hands on a copy of the game for $169. Rock Band will be released as a special edition bundle for Wii that will include software, drums, microphone and a wireless guitar.
A news release
from the companies behind Rock Band say stand-alone instruments will also be available at launch date so gamers can build a band one instrument at a time, or the play drum vs. drum game mode. The game will feature 63 songs, including five bonus songs specifically for Wii gamers. A Rock Band spokesperson
told MTV
the Wii will have similar functionality to the PlayStation 2 version of the game. MTV reports:
"There will be no DLC available, but the Wii version will have the five additional songs on the game disc. When developing 'Rock Band' for the Wii platform, we focused on making the core gameplay experience as solid and enjoyable as possible while tailoring it specifically to the strengths of the platform. The Wii version still contains the robust four-player band experience and all the fun at the core of other versions of 'Rock Band.' However, because the Wii's online capabilities and potential have yet to be fully realized, we wanted to wait before we explored online functionality for 'Rock Band' to ensure that players get the high-quality of online performance they've come to expect."
Rock Band features four instruments: Guitar, bass, drums and vocals
The game is already available for Xbox 360, PlayStation 3 and PlayStation 2, but the whole world has been dying to find out when Wii will get rocked by Rock Band. "The Wii's success among casual and core gamers of all ages makes it an ideal match for the cross-generational appeal of the music featured in Rock Band," Bob Picunko, Vice President of Electronic Games and Interactive Products at MTV, said in a news release. "The social interaction and addictive nature of the Rock Band experience is a perfect fit for the Wii and will undoubtedly be fun for the entire family," says Steve Singer, licensing VP from Nintendo." Rock Band lets gamers put together a video game band made up of a guitarist, a bassist, a drummer and someone who wants to sing vocals. Electronic Arts says the game has the most master recordings of any music game ever released, and includes tracks that span every genre of rock (from heavy metal, to punk, to classical, to alternative). The game has pulled in more than 40 industry awards, including Game Critics Award: Best of Show E3 2007.
Rock Band will be available for Nintendo Wii on June 22, 2008.
If the sales of similar-styled Guitar Hero are any indication of what to expect from Rock Band, the franchise could be worth a fortune. The Guitar Hero franchise set an industry record with more than $1 billion in sales (
see our previous coverage here
). Getting on Wii was necessary for Rock Band to help feed the musical addiction of this exploding trend. According to NPD numbers, Rock Band was No. 1 in Feb. 2008 sales. More info can be found on
RockBand.com
.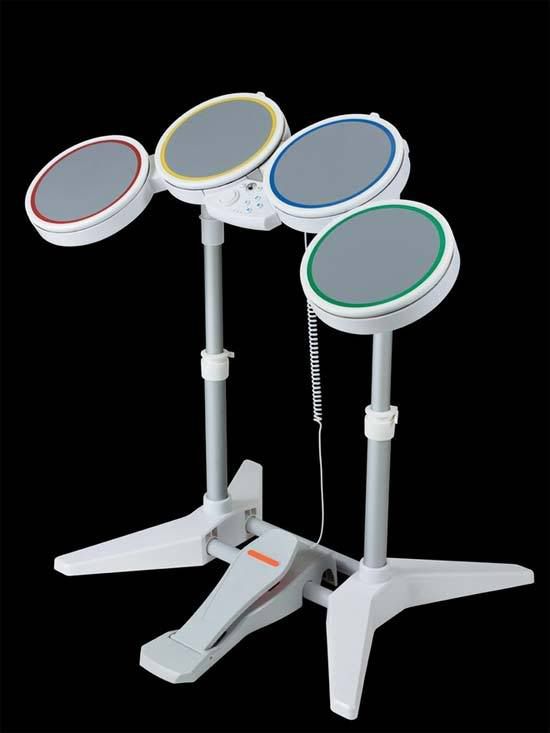 The Wii version of Rock Band will also ship with Wii-styled, all white drums