Text-messaging to TV screens. Buying tickets on the go. Entering Deal or No Deal contests with a cellphone. All these mobile possibilities are at the heart of MyThum, a Toronto company allowing brands to target audiences through cellphone technology. MyThum CEO Michael Carter explains why the cellphone is the PC of the future.
Digital Journal -- If you've ever text-messaged an answer to a Toronto Blue Jays trivia question or voted for contestants on
Canadian Idol
, you're only making
MyThum Interactive
CEO Michael Carter smile even wider. His six-year-old company is responsible for the systems behind many of these popular cellphone innovations that are linking brands with their target audience. It's not enough to just use a cellphone for calling, Carter believes. Mobile interaction is progressing to another level while also providing businesses with an additional revenue stream. Cellphone culture is evolving rapidly, giving rise to new applications for a relatively old device. Everything from
GPS services
to
boarding passes
are using cellphones to better serve mobile junkies. As more companies seek to engage the public in their brands, cellphones are being regarded as a powerful tool to lure them back to the brand. MyThum is at the forefront of the trend -- it was named company of the year at the
2007 Canadian New Media Awards
, and its client list resembles an all-star lineup of major movers n' shakers: Rogers Media, Nike, MuchMusic, Telus, Molson, Nissan, Warner Music Canada and CanWest Global.
Using MyThum technology, viewers could play Deal or No Deal in Canada through SMS.
MyThum is behind text-messaging contests popular at sports event and music shows (MuchMusic, for example), where cellphone users are encouraged to text answers to trivia questions at 50 cents a text.
Canadian Idol
also employed MyThum to create its text-voting system.
A Deal or No Deal
contest used MyThum technology, and
Lavalife
introduced "mobile dating" with MyThum's text-based infrastructure. What's the secret to their success? And how will the cellphone become the center of our digital lives? In an interview with DigitalJournal.com, Carter explains why MyThum is giving businesses an income boost and customers a creative link to various brands.
DigitalJournal.com:
What makes MyThum stand out from other mobile media companies?
Michael Carter
: We're not just a technology company. We provide the balance between intellectual capital and insight so clients can develop the right strategy for them. We make sure a mobile strategy fits effectively with a company's business objectives. So we look for companies committed to creating lasting relationships with audience. The ideal firm for us is one that wants to leverage mobile with a long-term perspective and who want to interact with their audience in real time.
DigitalJournal.com
: Text messaging has exploded across the world, and here in Canada more than 27 million texts are sent daily. MyThum has built a lot of its business around texting so what do you find appealing about the technology?
Carter
: It's discreet and still personal. Texting is convenient when you need to ask a question and get an instant answer without picking up the phone. And you can do it anywhere -- on the road, in the middle of a meeting, while shopping. It's a quick way to communicate.
MyThum helped create Canada's first fully automated, all-request music video service through CHUM Television. Viewers request videos, participate in on-screen chat, polling and more by SMS.
DigitalJournal.com
: So how is MyThum taking advantage of that text-messaging craze? How do your texting contests work?
Carter
: It starts with a high-quality platform and billing system integrated with wireless operators. When we first started the company, we didn't have the technology or the money to develop our own system so we sourced it out to Norway. Funny enough, in a contest like the Toronto Raptors' Best Seats in the House, when a consumer texted a message, it was sent to Norway and processed back to Canada. Over the last six years, though, we've embarked on a technology strategy to develop our own infrastructure in-house. At the end of the day, we had to build a platform to handle large-volume exercises.
DigitalJournal.com
: How do these contests and promotions help businesses?
Carter
: Look at the MuchMusic channel and the show PunchMuch, where viewers paid 75 cents to vote for a video they wanted to see. That 75 cents is how we get paid, and it's a compensation model where carriers and MuchMusic also get paid. The neat thing about mobile is that it has the potential to open new revenue streams.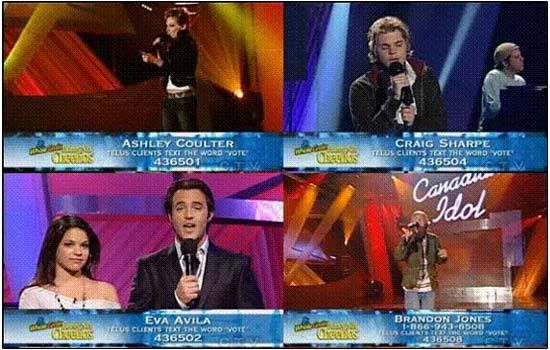 MyThum teamed up with Canadian Idol so voters could text in a short code and vote for their favourite contestant.
DigitalJournal.com
: Do you think the cellphone will be the new PC?
Carter
: Our society is leaning toward a single-source device. Sure, I might not use my phone for spreadsheets but it will move from an entertainment product to something that also includes email and mapping and location-based services. I believe the mobile device will become the remote control for our life, especially for youth. We've seen the evolution of mobile usage where networks are growing and carriers are investing to become more efficient. Handsets are only as as good as the networks they run on.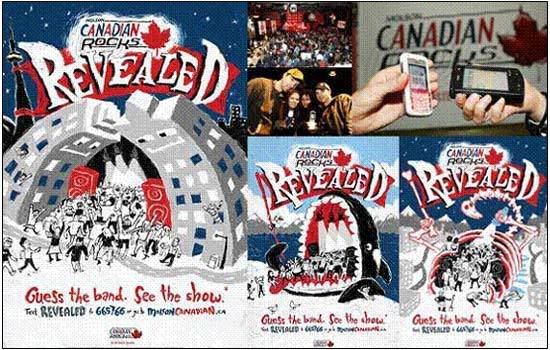 MyThum helped beer company Molson to run an marketing campaign that let consumers text the company with the words "revealed" and they would get a call back with details and would be subscribed to SMS clues to find out where popular bands would be playing. A Toronto event with Billy Talent was North America's first concert ticketed entirely through the mobile phone.
DigitalJournal.com
: How has interactive TV grown in the past few years?
Carter
: Broadcasters are adopting it more and more because they want to interact with their target audience better. For example, a good example is the
Deal or No Deal
contest we did where viewers could enter on their PC for free or use their mobile phones costing a dollar a message. Two out of three entries came through on a mobile phone. Whether in your house or at a bar, the phone is in your pocket. I'm starting to see broadcasters embrace mobile, and production companies tell me they don't want to see a mobile plan as an afterthought but rather develop it earlier with the program concept to add a layer of mobile interactivity.
DigitalJournal.com
: How would you like to see the cellphone evolve?
Carter
: I can see it moving from an entertainment tool to something used for everyday exercises, whether it's booking doctors' appointments or buying train tickets. A cellphone can make life more convenient and more cost-effective, and we're beginning to see corporations to not just view it as marketing tool, but as a way to drive product sales.