A newly launched blog posts lost photos from cameras found by complete strangers. Ifoundyourcamera.net brings out the compassionate people who want to return "orphan photos" to their rightful owners.
Digital Journal — You're on vacation, snapping digital pics with your new camera. You capture poignant moments you can't wait to relive once the trip is over. But leaving the hotel room, you realize you've lost your camera, including the dozens of photos you took of your favourite travel stops. Despair no longer. There's one blogger who wants to bring hope to that frustrating scenario. Matt Preprost, of Winnipeg, MB, has launched a blog called
Ifoundyourcamera.net
— and the blog does exactly like that, posting "orphan photos" lost by random people around the world. People who find cameras or memory sticks send Preprost photo sets, and then he posts those pics on his blog in an attempt to connect the lost pics with the rightful owner. "Most people feel compassionate for the people who lost their camera or memory card," Preprost, 20, says in an interview with
DigitalJournal.com
. "They just want to help do their part and get it back to them. And it's nice to know that these people want to do the right thing."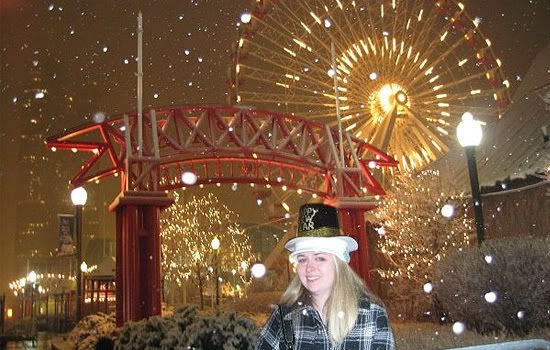 Ifoundyourcamera.net posts photos that people lost during their travels, like the one above. -Photo courtesy Brett Moist
Since
Ifoundyourcamera.net
launched on Feb. 3, more than 40 photos have been posted on the blog, and the site has attracted 400,000 visitors within three weeks. Preprost says he has received photos from "every corner of North America" and he admits the blog has become more popular than he ever imagined. How did it all begin? Preprost was inspired by
PostSecret
, a website where people anonymously share secrets or confessions. Preprost spotted a photo submission of a group of friends partying and the handwritten text: "I found your camera at Lollapalooza this summer. I finally got the pictures developed and I'd love to give them to you." He was compelled to contact PostSecret's founder, Frank Warren, to talk about blending the Lollapalooza photo with other lost photos on a new site.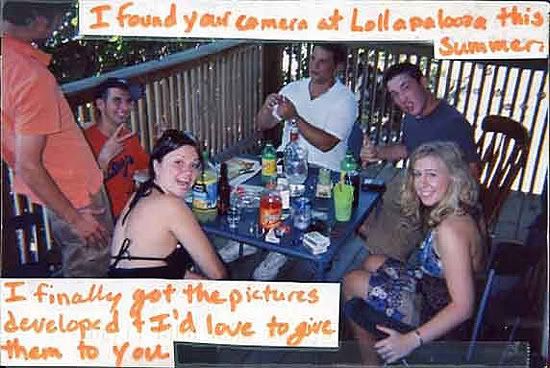 The orphan photo blog was inspired by a similar site called PostSecret, which posted this photo to find the pic's owner.
Preprost says, "One thing that Frank likes to do with PostSecret is share stories between the secrets and the readers, connecting strangers all over the world. IFoundYourCamera is very similar in the way that we try to focus on the stories, especially the stories of people who are reunited with memories from film that they figured they had lost forever." The site's success is apparent in the gushing thank-you's coming from the owners of the lost photos. Someone named Jerry emailed Preprost, saying: "Hi those are my pictures online! I'm so glad that you found my SD card and this is so weird that my friend actually found your site! Your site is awesome!" Those kind of emails make the site worth the effort, Preprost says. "It's rewarding and inspiring knowing that I am helping people by reuniting them with lost memories from monumental moments in their life," he adds.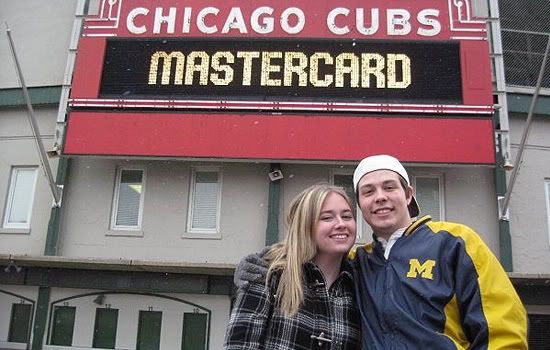 "Most people feel compassionate for the people who lost their camera or memory card," Preprost says. -Photo courtesy Brett Moist
Ifoundyourcamera.net attracts sympathetic people who would rather get those photos in the right hands instead of chucking them into the garbage. And once in awhile, someone will want to connect with the photo owners in a more meaningful way. Preprost says one set of orphan photos were emailed to the blog with the attached text: "I would love to party with you guys sometime if you find this!" To check out more lost photos and the stories of their owners finding them, go to
Ifoundyourcamera.net