A new role-playing game (RPG) mocking Internet culture is staking its own piece of the gaming pie. Forumwarz satirizes the flamewars, comment trolls and gibberish phraseology you're bound to see in every corner of the Web.
Digital Journal — You may have heard of
role-playing games on the Internet
but what
about
role-playing games about the Internet? A new game called
Forumwarz
should appeal to anyone familiar with comment threads: interact on forums to generate random comments to gain points, and play as either as a Troll, Camwhore or Emo Kid. Each has their own abilities: the Emo Kid, for example, "turns otherwise agreeable forums into dumping grounds for her depressing rants, false-alarm suicide notes and side-splittingly morbid poetry." Developed by Toronto-based
Crotch Zombie Productions
, this online game about online culture is a needle in a haystack of role-playing games about the same-old themes. But Forumwarz differentiates itself by mocking stereotypical comment hounds, giving a satirical twist to inserting quick phrases into threads. And a warning to anyone easily offended: This site is designed for a mature audience and it holds nothing back. Robin Ward, Forumwarz's developer and designer, says the game "parodies almost every aspect of the Internet that these people spend so much time in. The basic thought behind it is: what if the Internet were a game?" He compares the game (released in beta Oct. 31 and now open to everyone) to another popular hub of insider geek jokes: "It's like one of my favorite TV shows,
Futurama
, which does a great job of being funny to the casual viewer but also manages to squeeze in all these obscure jokes for the nerd audience who will appreciate them."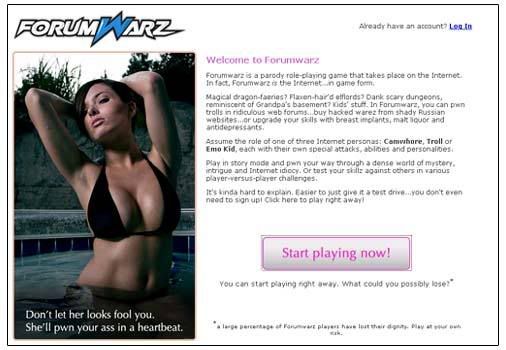 The front-page of Forumwarz' website warns "a large percentage of Forumwarz players have lost their dignity by playing the game." Players are then taken to a screen where they must type "I am not offended easily" before being able to play.
So what do you do, exactly, on Forumwarz? There are attacks and items that correspond to RPG attacks. Players adopt the persona of an Internet user, and wreak havoc on fake websites. You reach various levels by earning "cred," which is accumulated by polluting fake forums with nonsensical statements you'd find, well, on comment threads. For example, on the forum Suburban Gangsta Paradise, an "attack" action — drooling on the keyboard — will let you see a reply to a comment, such as "I bet you so white, you transparent. I see THROUGH you, un-nice person." A hefty dose of crude and edgy humour peppers the site. Take a forum called "Drinking Denture Water: grossitating or repellent?" Players are encouraged to "attack" the thread, resulting in phrases such as "bam bam, bam bam!" Gibberish, right? Well, have you visited a popular forum recently?
YouTube
is full of pointless verbiage. Mike Drach is vice president and Chief Imagineering Officer (yes, that's right) for Forumwarz, and he writes most of the copy found on the game. He wants the game to mock the stupidity replete on the Web while also adding a more intelligent layer of interactivity: "I actually think the whole
LOLcats phenomenon
and all the 'macros' that people use to express themselves over the Internet is, to use a Bostonian bit of slang for some reason, 'wicked retahded.' It's just too easy. Forumwarz reflects a more sophisticated sensibility while taking into account all the stupid-ass memes and modes of expression that people use online, and then corrupts it."
Forumwarz creators Robin Ward (left) and Mike Drach.
Drach (a former
DigitalJournal.com
employee) admits the ideal fan of Forumwarz is someone who actually sticks around: "It's amazing to compare the reactions of those people who bother to take the 1.5 minutes to sign up, versus those who are so attention-deficient that they drop out after five seconds. Those who stick around love it, but that's because they invested their precious time to play it."
Forumwarz lets you "attack" forums with silly comments, like the one above.
The site has already attracted 2,500 members, and it's already been "dug" on
Digg.com
. The game is gaining its own street cred by being one of the few fun and well-written games about Net culture. So what's the next step for the Forumwarz team? Episode 2 is on the horizon, Drach says, which means users who reach the end of Episode 1 (level 10) will have to wait for the developers to catch up. The storyline will continue in the next episode, which has yet to be released. Ward expresses another long-term mission for Forumwarz: "I would say my end goal is to have a huge, fake internet that people can interact with in dozens of different and entertaining ways."