Growing up poor, Paul Wallis found himself sucked into a world of suffocating drug addiction. After cleaning himself up on the brink of death, he changed his life and became one of the Web's top-rated citizen journalists.
Digital Journal – There are two things that can happen when you meet Paul Wallis (known as
Wanderlaugh
on DigitalJournal.com): You are left in awe over one of his ideas, or you reach for a dictionary to look up a word he used.. As an author, artist, poet and now citizen journalist, Wallis is an idea factory and wordsmith who wears his opinion on his sleeve. "[The mainstream media is] irrelevant dribblings from talentless morons designed to appeal to media buyers," he says unabashedly. "No wonder the audience, particularly the younger audience, is so quick to move on. See one and you really have seen them all. It's for hacks." The 53-year-old is blunt, brilliant and somewhat eccentric. The Australia native punctuates his sentences with sharp wit, backs up his arguments with fact-ridden tangents and espouses arguments very difficult to disagree with. Wallis has become a sort of revolutionary in the world of citizen journalism, but when asked if he thinks that of himself, he unapologetically refuses to accept it. "Just for the record, I don't give a damn what other people think of me, and haven't since about age five," he told me throughout a series of email interviews conducted over a span of weeks. "I consider most self-proclaimed revolutionaries to be chickenshit, from Robespierre to Lenin, at least. If anything I'd consciously avoid that label." Whether he likes it or not, the man down under has become what many people believe to be an icon. Admired by readers all over the world,
he's been rated the Top Citizen Journalist
on DigitalJournal.com; he's a published author and one of the busiest people you will ever meet. In this DigitalJournal.com exclusive, we take you inside a world of poverty, drug abuse and literary madness and introduce you to a man who stands on his own.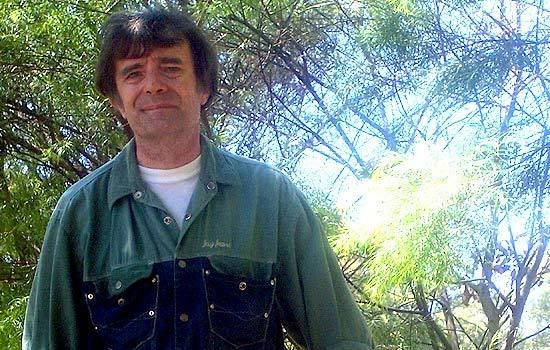 Paul Wallis, author and citizen journalist. - Photo courtesy Paul Wallis
The Wander Years
Wallis grew up in Mount Eliza, Victoria in Australia. The son of an artist and writer, Wallis was raised in wealthy suburbia which he describes as "a leafy place with a lot of rich kids in varying degrees of plutobrat-insanity." His parents ran a freelance ad agency which meant his family saw its share of hard times. "We were either doing well or broke, leading to a comment from me during one of our broke periods asking why the food got so much better when we were broke," Wallis told me. "It also meant I was the only teenage guy for miles without any money. In those days wages were pretty low, so 'working poor' had a meaning to me then." Wallis became self-supportive at an early age, paying for everything. He also recognized his uniqueness early, saying fitting-in was not easy. "I also invented acne," he describes on his site, "and did so at a time when the place seemed to be literally inundated with incredibly beautiful girls." Growing up in a happy family, Wallis was son to a mother with an IQ of 150 and a father who was an ex-soldier. His mother taught him to read before he ever attended school and his father taught him everything he needed to learn about art in 20 minutes. But happiness didn't last. After his family moved to the far South Coast of New South Wales in Batemans Bay, Australia, Wallis found it difficult to settle into the neighbourhood. He moved out when he was 16. His destination was Melbourne, and he had $40 to his name. Living alone was a decision that would change his life, as it eventually led to his experimentation with drugs. But unlike kids who experimented on weekends with marijuana, Wallis found himself entrenched in a much more intoxicating world. "I got involved in drugs, eventually becoming a junkie," he writes
on his website
. "God alone knows why. I did all the things associated with that; errand boy for dealers, etc. [and] thankfully nobody died as a result. I managed to OD a few times, on various things, over the years, and I really don't recommend it. To this day I loathe heroin, coke, and speed." Wallis fell into the scene for about six years, including four years as a heroin addict. Curiosity drove him to try it and addiction kept him pinned. He was consumed by drugs until one fateful night when he found himself in a room with two guys holding sawed-off shotguns. He was 23, and he listened to one of them talk about nearly being thrown out for the garbage truck after overdosing the night before. "What the hell am I doing here?" Wallis remembers thinking. "That was, finally, the end of that. It was one of those moments, everything clicked, and instant decision. Haven't had anything to do with it since." When he emerged from his inebriated stupor, he was broke and dangerously underweight for his six-foot frame, saying he dropped to six stone (84 lbs.). He went back home to live with his parents and recover from the effects of heroin, malnutrition, and neuroses. But drugs were just one of the many very hard lessons Wallis would face throughout his life, as disappointment and anger pock-marked his early years with even more let-downs.
Mumbly Tales
Wallis does not like getting personal. Getting some information out of him is like trying to convince Roger Clemens to admit he took steroids. There are just some areas he cannot talk about, or outright prefers not to, for his own reasons. One such area is music. A major part of his life and inspiration, Wallis also dabbled in music at an early age but was again left for dead by the music industry. Not wanting to provide too many details, Wallis says his website bio explains this part of his life best: "I'd been playing some music, some quite successful, for which I expected to be paid," he writes. "The music industry being the famous charity that it is, that of course didn't happen. I'm still
extremely
pissed off about it, by the way, decades later. 'Unforgivable' hardly begins to describe it. That is one of the very large number of reasons you'll never see a good word from me about the industry." In the course of moving back home, the happiness he slowly regained during the recovery from his drug-induced teenage years also faded when his dad died. Throughout our conversation back and forth, it became clear that being hurt was a very sore spot for Wallis. Getting him to reveal details about what exactly had bothered him in his past was impossible. Why? Because of the "amount of scar tissue, and something very close to a photographic memory." The journalist in me wanted to press him to reveal information about hardship or the last time he cried, to which he responded: "No response to this one, don't want to talk about it. Let's just say compared to the personal stuff, everything else is hilarious." Wallis says his hatred of personal questions led him to writing his own bio cryptically, leaving out specifics he did not want to discuss (by the time we were finished our interview, he admitted his closest friends would be surprised he shared this much with DigitalJournal.com). After his letdowns with music and his rough teenage years, Wallis' life took a turn for the better when he eventually landed a job working in the state government in Sydney. The year was 1980, and Wallis found himself working as a "clerk/ customer service/ mediator/ supervisor doing admin, mediation, main contact line phone inquiries, Ministerial letters, a Parliamentary briefing note, and various other things like IT liaison." Fit that on a business card. He worked with the organization for 20 years, finally taking a severance package in 2000.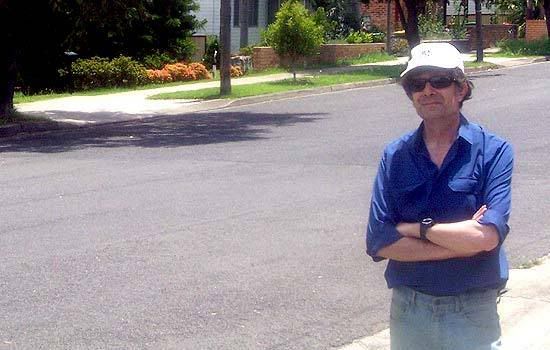 Paul Wallis, author and citizen journalist. - Photo courtesy Paul Wallis
Writing Is A State of Mind
Wallis' brilliance comes through best in his writing. He's witty, sarcastic, insightful and when he has something to say, people listen. Wallis is, by definition, an artist. Dabbling in painting, music, writing and poetry, Wallis left his government position to enter the world of literature and it shows in every detail. Even something as simple as a job title, Wallis describes with carefully chosen words that paint colourful pictures in one's mind: "Wordgrinder, prosaic panelbeater, language engineer." Anyone who has followed Wallis' work has seen his talent for making things poetic. He doesn't describe any situation simply. Not even an email or simple website comment. Every single word is chosen to dazzle and flood your mind with imagery. "It's a huge environment, internal and external," he says about his influences. "Everything affects my writing; moods, associations of elements in a sentence, and if a noun should happen along, kaboom. The only qualifier is I have to be stone cold sober when writing because I hate typos." Today, Wallis describes himself as a hermit who finds a powerful connection with readers of his online work. "The interaction with readers is extremely important because in any art form, feedback, of any sort, is essential," he said. "Art, by definition, is something you inflict on other people, so really if you don't get the feedback you can't be entirely sure what you're accomplishing. Criticism is the name of the game, and it's not so much whether it's good or bad as whether you understand it." Wallis finds inspiration in Voltaire, Aldous Huxley, Robert Graves, Isaac Asimov, Lao Tse, Beethoven and military historians, specifically Fuller and Guderian. He also immerses himself in music, art, literature and philosophy. Living in a two-bedroom apartment on a quiet street, he leads a busy day "with various gruntings of a ghastly writer, foul of breath and disorganized of appearance, or perhaps the other way around." Wallis lives in a "heavy" area of Sydney that he says is a nice place, a sort of 1970s-style community flanked by green space and encroaching developers. When asked what his typical day is like, the poet and writer takes over once again and a playful anomaly emerges. Talking in the first-person simply doesn't fit his style: "It staggers over to the computer in the living room, turns everything on, checks emails, attempts to convince self it's awake, turns on music to achieve some level of sentience, pours a another several cups of tea into itself, logs on to websites. Logs on to DigitalJournal.com…That cheers said writer up considerably, so gets on with articles, answering posts, hustling up new writing gigs, and new books. That goes on for about 12 hours." Wallis admits he prefers to spend more time on his own and keeps his circle of friends small and close. He's never been married, but that wasn't his choice, he admits. "I'm one of Nature's hermits. After a few bruising relationships it became the preferred option. I'm carrying too much emotional scar tissue for casual relationships. I'm a romantic, and what I call romance isn't something I take casually."
Paul Wallis, author and citizen journalist. - Photo courtesy Paul Wallis
Sydney's Media Jammer
Wallis has a playful sense of humour when talking about his own work, saying it likely would not fit under any genre in a bookstore. He says his writing is best suited for anyone who is "a reader type person" or "anyone with a brain." When asked where his work would fit if more than 80 per cent of fiction sells to middle-aged women, he said simply: "Somewhere between Playboy and the phone book." His skill as a writer is evident in the myriad of work he has published online. At time of writing this profile, he was working on five new books (he also has six books and ebooks
available on lulu.com
); editing another book; working with a variety of blogs online; rewriting books; running
his own website
; writing for forums and some advertising copy; and publishing regularly on DigitalJournal.com (where he's published
more than 650 articles
in nine months). Wallis writes up to 3,000 words per day and says it can take him anywhere from 12 months to five years to write a book. Wallis demonstrates an overflowing amount of passion for writing. However, perhaps most surprising, he has not sold a single book. "It constantly amuses me that I get these bemused reactions from people who've read my other stuff," he said. "The humor is the same style as the books. I'm not too fussed about it, because the publishing is mainly to cover copyright, 'tangible form.' I'm sick to death of playing post office with print publishers." But poor sales have not kept Wallis from working even harder, and he bleeds optimism when faced with challenges that would make most people whimper. "Anything that's any good gets knocked back initially, so that's more or less par," he said. "My impression to date is that the market has lost track of the audience, too, so I'm encouraged, if anything, by this sort of baffled reaction." Wallis has also recognized the problems in the publishing industry, as more readers are turning online. It's an evolution he embraces. "The print publishing industry has to grow up sometime," he said. "I love my books, I've been lugging around tons of them for decades, but even Gutenberg started with the idea of disseminating information widely, and this is the next step."
Citizen Thane
As the Internet age exposed Wallis to new realities and groups online, he gained respect for citizen journalism. The whole notion of blogging did not appeal to him, but news from a citizen perspective did. Over the last year, he's added the role of citizen journalist to his wordy bio and he's been a leader in providing user-generated news. Voted the top writer by DigitalJournal.com readers, Wallis has won over fans worldwide. When he was presented with the honour, he simply couldn't believe it. "Top Writer is a real compliment," he said. "Like with most compliments, I have no idea how to react. There are hundreds of writers on the site, so it really came as quite a shock. I've been doing this solo thing for so long I'm starting to wonder about my social skills, so any kind of peer recognition isn't the usual script." Wallis moved toward citizen journalism to try something new, but also because he's become a rabid critic of how the mainstream media handles issues and reports events around the world. He says the mainstream media in the U.S. simply serves up a "Disneyland version of America." One issue that presents a particular degree of frustration, Wallis admits, is U.S. politics and partisanship. What bothers him most is America's polarization, its stagnant and regressive global culture, the lack of results on environmental issues and the "unnecessary garbage humanity attacks itself with." As a reaction to his disappointment with mainstream news, Wallis' work usually includes critiques, a break-down of complicated political or scientific issues and a healthy dose of reality. "I think Citizen Journalism opens up a whole new horizon for information," he said. "I can tell you as a writer that when people who aren't professional writers write about their own professions ideas or experiences, they turn into good writers, sometimes very good writers. Then the writing helps them expand their thinking as well as the people reading them. It improves information quality, because it adds value to information." Wallis is wonderfully opinionated, in a way that adds layers to an article on China's economy, for example, or the controversy over Scientology. When asked what he thinks about critics who say citizen journalists can't be trusted because they are not accredited professionals, he scoffs. "[Citizen Journalism is] a far more demanding environment in which to write," he said. "We can't use macros or precedents for what we do. Every word can be targeted, and the other citizen journalists aren't as apathetic. Mainstream doesn't get external quality control. It's trusted to have internal mechanisms for that, and we can see how well that works." Wallis has left a noticeable mark on the world of citizen journalism and says the virtues of this burgeoning medium should be a lesson to mainstream media on how to fix its own problems. "Not wanting to be too glib, but stupidity is the problem, and compulsive obsolescence is the major symptom," he said about mainstream media. "The world is changing, and they're just now trying to find out where the audience went. The solution is: Get on the bus, because it will leave without them. If they don't adapt, they will die out, and I won't be shedding any tears." --
For more information, you can check out Paul Wallis' website or browse through his books online here.