When you think of people who are dying to get behind the wheel of a hybrid vehicle, does a pickup truck driver come to mind first? Well, General Motors is betting on it and is unveiling a hybrid pickup at the Chicago Auto Show this week.
Digital Journal -- GM will introduce the world to its 2009 GMC Sierra hybrid full-size pickup and a Denali XT concept truck this week at
the Chicago Auto Show
. GM says the Sierra boasts a 25 per cent improvement in fuel economy and the Denali shines with 50 per cent better fuel economy than a comparable small pickup. GM says the Sierra will incorporate the company's two-mode hybrid system already introduced to Tahoe and Yukon SUVs as well as the Chevy Silverado. GM is banking on the popularity of the two-mode hybrid system, as the technology was introduces at the L.A. Auto Show last year and Green Car Journal named the hybrid Chevy Tahoe
2008 Green Car of the Year
. GM says the two-mode hybrid system is better for towing, as the electric motor kicks up more power at higher speeds. GM says its sierra can drive as much as 48 km/h (30 mph) on electricity alone. It stores the electricity while braking and driving in a 300-volt battery. GM says the engine runs in four-cylinder mode for longer thanks to the new hybrid system. The 6L V8 can tow up to 2,767 kg (6,100 lbs).
GM says its Denali XT Hybrid boasts a 50 per cent increase in fuel economy over a comparable vehicle.
"More and more of our business and commercial customers are concerned about the environmental impact of their vehicle fleets and how that influences the reputation of their company," said John Gaydash, GM FCO marketing director, in
a news release
. "They want to increase fuel efficiency, lower their dependence on petroleum and help reduce vehicle emissions. Our broad lineup of cars and trucks provides customers with the right vehicles to meet their environmental needs while still making sure the job gets done. " The company says it will showcase a wide range of "gas-friendly to gas-free vehicles" in Chicago when it opens to the public on Feb. 8 through to Feb. 17.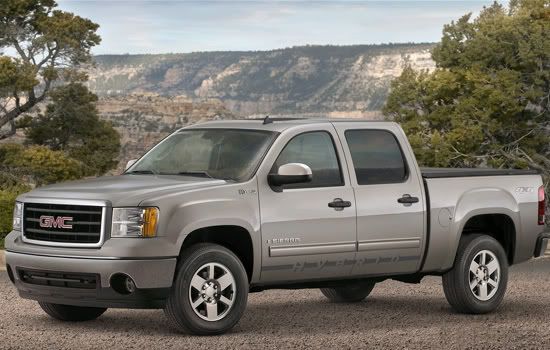 GM unveils its 2009 Sierra Hybrid at the Chicago Auto Show, running Feb. 8-17.
GM will also show off the 2009 Chevy Silverado hybrid, a full-size pickup that has 40 per cent better city fuel economy and 25 per cent better in overall fuel efficiency, GM claims. The company says the Silverado Hybrid's fuel economy is comparable to that of a small or mid-size truck with four- to six-cylinder engines. The company says it will be the most fuel-efficient full-size pickup. The SUVs will likely go on sale this year and the Sierra and Silverado will roll off the lots in 2009.