Using software created by an Alberta company, you can get a second computer in your house this holiday season free. In fact, the software is capable of splitting your PC into 10, saving you money and saving the environment at the same time.
Digital Journal -- Canadian company
Userful
is now giving away its Desktop Multiplier software to anyone who wants an extra PC free. The software turns one computer into many, allowing a single computer box to support multiple users at the same time. All you need to do is connect an extra monitor, USB keyboard and mouse to your run-of-the-mill computer box, and the Desktop Multiplier software will make it possible for two people to work on the same PC at the same time. The reason Userful is giving away its software is to prove an environmental point and show just how much "un-tapped value lies hidden in today's desktop PCs," as their company
press release
reads. In an email interview with DigitalJournal.com, Userful's marketing and PR manager, Sean Rousseau, said, "Desktop multiplier works so efficiently because it only copies the necessary portions of the operating system while sharing the rest between each user. However from a user's perspective it appears that both have their own independent PC since their actions and files are completely private and separate from each other." As for the legality of splitting the operating system to work with multiple users, Rousseau also noted Userful's Desktop Multiplier runs on the open source Linux operating system, so turning one computer into two is perfectly legal.
In fact, Userful's software will allow you to create up to 10 independent workstations from a single physical computer tower. The software is currently used around the world in schools, libraries, hotels, and other businesses. The software manages up to 10 PCs through a central Web portal. For a detailed diagram of how it works,
click here
. "Most of what happens in an office -- word processing, internet, spreadsheets, etc. --- uses very little of the computing power of modern PC's," said Rousseau. "We figured there must be a more efficient way to use our computers and so we developed the technology to have up to 10 of our employees working from a single computer simultaneously. It worked so well that we decided to share it with the world." The company was founded in 1999 and is currently privately held. Userful was named Alberta's 10th fastest growing company earning under $20 million in revenue. Userful says its software has led to "huge savings" for businesses and individuals by reducing the number of PCs one needs to purchase. The company says turning one computer into 10 can cut as much as 70 per cent from a business's hardware investment.
The company says
: "Over a 3-year lifecycle on a 100-user deployment, Userful's Desktop Multiplier approach can save as much as $90,000 in hardware acquisition; $90,000 on software acquisition; and $100,000 to $200,000 per year in reduced software support and maintenance costs." The idea of splitting a computer between multiple people certainly sounds great for IT departments everywhere, so we wondered if the system would be bogged down by up to 10 people using a single computer's processing power. "How much it slows down your computer depends largely on how fast your computer is and what you plan on using the computer for," said Rousseau. "For an example of what you can do we recently tried overloading one of our 10 user stations just to see if we could. All 10 had office programs and email open, they each had multiple YouTube videos playing, and six of them were playing RuneScape all at the same time without any slowdowns at all." In addition to cost savings, Userful is also finding an innovative way to be green in the PC market. It says 10 monitors, mice and keyboards on a single computer reduces CO2 emissions by up to 15 tones per year per system. According to the company, in the last year their software has saved more than 13,250 tons of CO2 emissions, the equivalent of taking 2,300 cars off the road. In addition, it also saves you money because using one physical computer (rather than two) cuts down on your electricity bill, and it reduces hardware and support cost.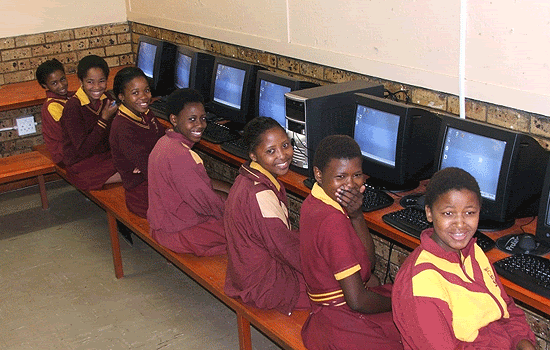 A group of kids laugh and pose for a photo beside a network that employs Userful software, allowing one computer to be turned into 10.
Userful is also helping out in another green space, as its software cuts back on computer waste: With an estimated 20 million PCs becoming obsolete in the U.S. each year, Userful says e-waste contains lead, mercury, cadmium, and many other toxic and bio-accumulative compounds that can compromise water and air quality. By sharing the same box, Desktop Multiplier reduces electronic waste by up to 80 per cent. The current promotion comes with free two-user licences, so all you need is an extra video card (or a card that enables two monitors to be plugged in), a USB keyboard and a mouse. The company says the download will not affect any software on your hard disk. So why is the company giving its software away for free? Rousseau told DigitalJournal.com: "We are giving this software away for personal use only because it is our hope that people will realise what an amazing product it is and recommended the commercial version to their workplace. It is free forever, enjoy!" To download the software free,
visit Userful's website
.