Cellphones as the new boarding pass at airports? It's not as far-fetched as you think, as Continental Airlines becomes the first U.S. airline to allow passengers to board flights using a cellphone or PDA.
Digital Journal — You approach the Continental Airlines boarding agent in Houston. Instead of handing over a boarding pass, you show the agent your cellphone screen, which displays a series of squares and rectangles sent to you earlier by the airline. This barcode stores your name and flight number. It's a scenario currently taking place at Continental Airlines desks at the Bush Intercontinental Airport Houston as the airline undergoes a three-month trial period of this cellphone boarding pass. The program has the potential to expand to other airlines and airports nationwide. The two-dimensional bar code is still scanned with a handheld screener to ensure authenticity. Photo identification is also required. Transportation Security officials say the electronic pass allows screeners to better detect fake boarding passes. Continental Airlines isn't the sole innovator in North America for cellphone-PDA e-passes. Air Canada launched its paperless boarding pass in September, and the reception has so far been positive with those who check-in using a cellphone or PDA. The number of passengers using the new procedure has doubled each week since Air Canada offered the option, the airline's spokesperson said.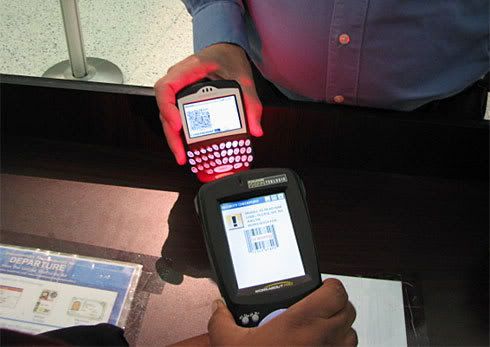 A pilot program at Houston's Intercontinental Airport allows airline passengers to check-in using cellphones. - Photo by TSA
The practice could become popular globally, too. In November, the International Air Transport Association, a worldwide trade group, estimated that more than 90 airlines are applying electronic barcode scanners to check boarding passes. The IATA said the technology is part of a larger trend toward electronic ticketing, self-service kiosks and radio-based baggage management.