Led by Free Press Internet campaign director
Josh Levy
,
reddit
co-founder
Alexis Ohanian
, and a handful of other key industry players in the digital media world, a largely ungoverned coalition
released
what they call the
Declaration of Internet Freedom
. Available
here
, the Declaration lays out the five main commandments for implementing online policies, ideas that should set the blueprint for the future of online transactions: ‌• Don't censor the Internet. ‌• Promote universal access to fast and affordable networks. ‌• Keep the Internet an open network where everyone is free to connect, communicate, write, read, watch, speak, listen, learn, create and innovate. ‌• Protect the freedom to innovate and create without permission. Don't block new technologies ‌• Protect privacy and defend everyone's ability to control how their data and devices are used.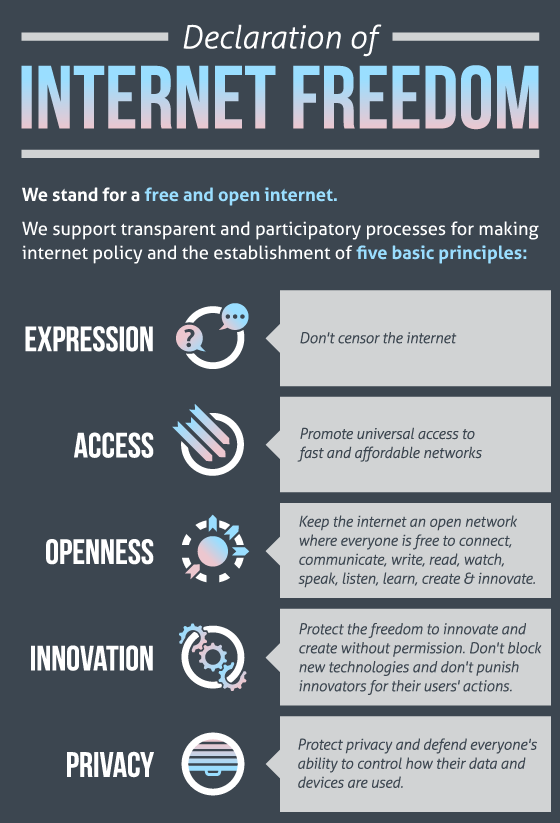 Anyone can sign their name to the Declaration, and groups such as the Electric Frontier Foundation
asks
interested Netizens to "send a letter to your Congressional Representatives asking them to join you in supporting a free and open Internet."
Slate
notes "it's essential to emphasize that the declaration is designed not to be the final word but rather to spark a much larger discussion." That's the value of such a document, even if it's only circulated in the digital media community at first; the principles get us talking about what matters to us about our online experiences. Maybe this will reach the right people in the hallowed halls of decision-making but for now let's discuss how privacy is central to our value system, for instance. Or we shouldn't let a bill like SOPA even get through any stage without letting the right voices be heard. What's interesting is how this broad coalition is basically leader-less. A profile on the Declaration by The Verge
writes
the document's "coalition involved a lot of different people, and the effort evolved without strong central governance." The decision to create these principles arose after the U.S. SOPA
bill
ignited controversy across the world as it sought to alter the architecture of the Internet to curb online piracy. Essentially, Congressmen wanted to shape how people used the Web. The Verge
adds
, "Like anything else the government touches, the internet won't necessarily be regulated by those who understand how it works or who know the needs of its users." The Declaration was released Monday and already at least one partnering site, Free Press, has
accumulated
16,925 signatures at time of publication. It'll be interesting to see where the Declaration takes online governance, or how it adds new contours to a debate already on the mind of everyone who runs an Internet property or who spends way too much time laughing at viral
videos
.