Photographer Adam Makarenko gets up close and very personal with bees and hives in his Miniature Apiary project, but his imaginative work uses dioramas and bee molds instead of the real thing. The photos display a stunning and fantastical side of nature.
Digital Journal —
Adam Makarenko
doesn't just enjoy his natural surroundings; he chronicles them with his camera, capturing poignant moments rarely seen outside forests and swamps. But there's a catch: Makarenko creates the nature scenes he photographs, and his latest project on bees offers a glimpse into his artistic process. Yes, he makes bees. Toronto-based Makarenko has created an imaginary world in his Miniature Apiary series, using dioramas and bee molds in order to flesh out his fantastical landscape. Just as he manipulates materials to fashion his own world to photograph, the series follows a theme stemming from a short story he wrote:
The Langstroth Range
centres on a man who discovers a pristine valley filled with giant bees, and he tries to exploit the bees to do his bidding, even though they become dangerous and aggressive. Makarenko's story (named after the inventor of the modern bee hive) informs the Miniature Apiary series and gives his photography a narrative to follow. Miniature Apiary was recently displayed at the Pikto Gallery in Toronto. And one of his photos from the series won
an award from American Photo Magazine
as one of the Images of the Year 2007 for Personal Work. In a rare interview, DigitalJournal.com spoke to Makarenko, 34, about his unique idea, what technology went into photographing the miniatures and why he finds his artistic passion fulfilling.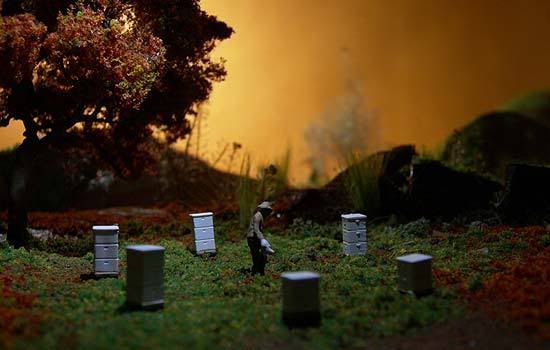 "The Array" by Adam Makarenko
DigitalJournal.com
: Tell me how The Miniature Apiary began, and what motivated you to work on a fictitious world involving bees?
Adam Makarenko
: I was first interested in bees and apiaries back in 2005. I initially found some beekeepers up near Owen Sound, Ontario, and they exposed me to the world of real bees. I immediately found bees to be quite interesting, and was fascinated by their intricate social structure. Aesthetically, I felt that bees would be interesting in terms of lighting, colour, and movement. I spent two seasons taking pictures of real bees. When the bee season ended in 2006, I wanted to continue with the subject of bees. I had an epiphany: "What if I decided to make a miniature world of bees and apiaries?" This bloomed into a great artistic vision for me. I started to make tiny hives, and dioramas. This continued for months, and became more intricate and detailed as I went along. During this same time I started to develop a documentary on bees. I began researching bees, which encompassed everything from science to spirituality. I developed a fictitious story called The Langstroth Range, which the miniature work is loosely based on.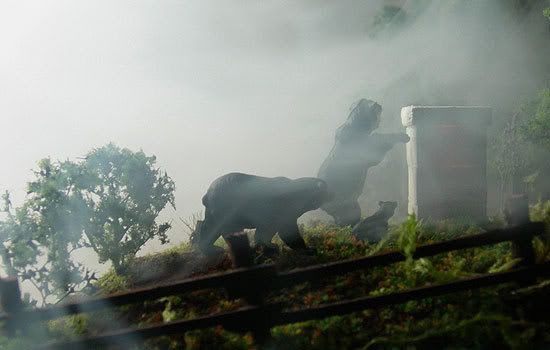 "Bears" by Adam Makarenko
DigitalJournal.com
: What kind of detailed work was involved with Miniature? How did you get the models, and what did you do to make things look to-scale?
Makarenko
: I started making tiny hives, and eventually made many scales of hives. I have used train scenery for trees, bushes, and grasses. I gradually started to make more and more of the miniatures myself. I like the authenticity of hand-making my own dioramas and creatures that inhabit those dioramas. I made bees of many sizes. The most intricate bees, "Proto Bees," were a part of a casting-molding system. I first made a small bee maquette out of polyplasticine. I then made a mold from that bee, which I then casted with a material called Plastil-10. I wanted the bee's abdomen to glow, so I embedded tiny LEDs into the mold so that they would light up. The result is a soft rubbery bee. I then added the legs, hair, and wings afterwards.
"Langstroth Range" by Adam Makarenko
DigitalJournal.com
: Cinematic aspects of lighting and colour influence your work but can you elaborate on how your work borders on the cinematic? Any examples you can give from Miniature?
Makarenko
: My cinematic approach comes from the lighting designs of
Bill Roe
, the
X Files
director of photography. He used a lot of backlight, and created many moody situations. Another cinematic characteristic is the use of fixed lighting sources: LED lights, tungsten lights, HMI lighting sources. In other words, I rarely use flash. Another cinematic feel would be the shallow depth of field that is very common in cinema. I sometimes use a Hampshire 1/4 frost to create a shallower depth of field, which in my opinion enhances this cinematic approach, in regards to the look of the work. In "Bee Truck" I wanted to create an otherworldly sunset in a misty valley. I backlit the miniature truck with an LED panel made by Rosco. This created a mysterious sort of feel, and a particular mood that is found throughout the work.
"Bee truck" by Adam Makarenko
DigitalJournal.com
: How have you used the Web or developing technologies to publicize your work or enhance your art?
Makarenko
: I really like the idea of Flash and I've used Slideshow Pro, a Flash-developed program for viewing photographs. I like to integrate Flash with HTML and Java and CSS. Also, cross-platform Web design interests me greatly. When you find a limitation in one Web scripting language, there may be a solution in another.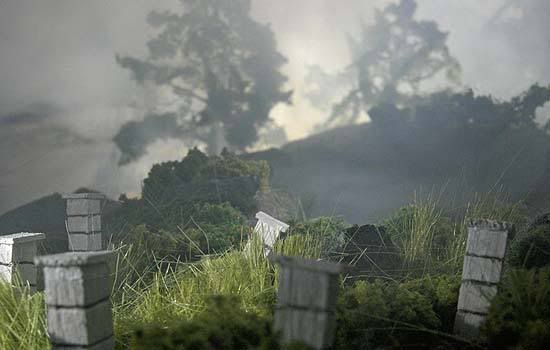 "Grassy Hives" by Adam Makarenko
DigitalJournal.com
: I got a feeling the 20 photos I've seen from the series are only just the beginning.
Makarenko
: You're right. I'm only just starting this project, and I'd like to include another 50 or so photos. But I've been slowed down by gallery exhibits, some commercial work and a stop-motion music video I'm doing with the band
Bowerbirds
from North Carolina. Actually, that video will incorporate some themes from The Langstroth Range.
DigitalJournal.com
: So what do you find fulfilling about photography? Makarenko: I like the immediacy of digital imaging. You are able to see results right away. This allows you to work faster and more accurately. Most of all, I like to be creative and photography is a great outlet for that.
To see more of Adam Makarenko's work, including the Miniature Apiary series, go to www.adam-makarenko.com