Remember the classic Super Nintendo game Street Fighter? It has been serialized into a live-action Web series and in an interview with DigitalJournal.com, the series' writer discusses what went into recreating the game for the screen.
Digital Journal — What would happen to Ryu, E.Honda, Blanka and Chun-Li 10 years after their tournament battles? The question on the mind of every
Street Fighter
fanatic has been answered by the guys behind
CollegeHumour.com
, a satire video website. The video game Web series has just reached its conclusion, but DigitalJournal.com wanted to find out what motivated the writers in the first place. Was this a case of Street Fighter obsession taken to a very odd extreme? To the uninitiated,
Street Fighter
is a popular video game franchise enjoyed by gaming fans all over the world. First created for the Super Nintendo system by Capcom in 1987, it was one of the first fighting games that featured addictive special moves fairly easy to pull off. Also, each character came from a foreign country (Dhalsim from India, Blanka from Brazil, Zangief from Russia, and so on). The game's success spurred a
movie
(Van Damme's worst, perhaps), cartoons, toys, merchandise and copycat games. Back in the 1990s, a master at
Street Fighter
earned respect like
Guitar Hero
rock stars today.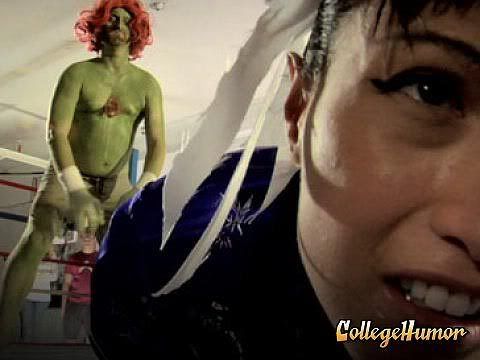 The Brazilian Blanka battles his former lover Chun-Li in the final episode of the live-action Web series, Street Fighter: The Later Years
When
Street Fighter
's popularity waned as next-gen gaming systems took over living rooms, the franchise lost momentum. Gamers moved on, gobbling up first-person shooters like
Halo 3
or hard-to-master fighting games like
Tekken
. But College Humor TV didn't forget
Street Fighter
. On Oct. 2, 2006, the first episode of the live-action
Street Fighter: The Later Years
was posted on the CHTV site, known for video spoofs and short films. The two-minute video clip starred an older wimpier Zangief working as a janitor in an arcade, who later meets a cab-driving Dhalsim. The elastic-limbed Dhalsim admitted, "After awhile, the royalty cheques stopped coming. Took up this shitty job. Every once in awhile, I pull out the old SNES and I beat the shit out of myself. Makes me feel better somehow."
Balrog returns to the ring after years of retirement, according to one plot line in the Street Fighter Web show
The introductory video sparked a wave of support from the blogosphere, with everyone from Digg users to College Humor regulars clamouring for more soapy drama starring their favourite
Street Fighter
characters. The first few episodes attracted a million views each on CHTV and on
YouTube
, individually. Forums dedicated to the series started dotting the Web. But after the third episode in December 2006, CHTV stopped producing any more videos because of the site's expansion. Writers and directors focused on other projects, and SF:TLY was put on the back burner. The desire to wrap up the series and the plot were tugging at the CHTV writers. The characters, ranging from Guile to M. Bison to Vega, were now preparing for another tournament, and many questions remained unanswered: What happened to E. Honda? Were Chun-Li and Blanka a couple? Why couldn't Ken hurl fireballs anymore? Nine months later, the
Street Fighter
team went back to the drawing board and finished what they started. The ninth and final installment was posted on Feb. 29, 2008.
Impressive special effects added an important touch to the series, which featured fireballs, stretching limbs and turbo punches
So what's the appeal of the series to the average viewer? "The colorful, hilarious characters have always been a major factor in the success of the series," says CHTV senior writer Dan Gurewitch in an interview with DigitalJournal.com. "We're writing for an audience in their late teens and early twenties, so by revisiting the characters 10 years later, we're appealing directly to this generation's curiosity about what happened to them when they got older." There is enough humour to keep the hardcore Street Fighter entertained: Vega's wife complains about his knifed gloves cluttering the kitchen; Balrog is frustrated at working his boring security job; and Chun-Li and M. Bison settle some unfinished business by dueling with toilet plungers. There are even a few inside jokes for old-school fans of the gaming series but the writers didn't just deliver geek humour. "We decided to approach it like a serial drama, and trust that the jokes would come," Gurewitch remarks. "We thought it would be too easy to rely on self-referential video game humor, and wanted a compelling story to be our first priority." Gurewitch says the
Street Fighter
shows were rewarding because it felt like writing a 35-minute short film. Also, in terms on the relationships built between actors and staff, "working together on such a large-scale project brought people together and taught us a lot."
On the set at Street Fighter: The Later Years, the brainchild of College Humour TV
Although the series is now over, Gurewitch hints at one possible key development:
Street Fighter: The Later Years
may be coming to DVD. All Gurewitch can say is, "We've discussed it but haven't made any definite plans." Exploring the lives of old video game characters is a booster shot of nostalgia well worth revisiting.
Street Fighter: The Later Years
answers questions that may have been burning on the minds of the game's fans, and although the series is over, it will be hard to picture Blanka without the green paint covering his skin. It will be hard to banish from memory Chun Li's helicopter kick, complete with Balrog's lewd comment about seeing up her skirt. Maybe that's the point – a fresh (albeit sophomoric) perspective on a legendary classic. And if CHTV writers have their way, the series won't die with February's final episode. If and when a DVD is released, expect those
Street Fighter
fans to return to their favourite soap opera like New York women reveling in
Sex and the City
reruns.
Below is the final episode of the nine-part Web series, Street Fighter: The Later Years: