It's the day everyone in the tech world has been waiting for and DigitalJournal.com has full Macworld coverage. Today, Apple CEO Steve Jobs announced movie rentals, the world's thinnest notebook, new iPhone features, and much, much more.
Digital Journal — It might not have had the much-hyped iPhone to announce like last year, but today's 2008 Macworld Conference & Expo kicked off with news that would make any Apple fan shake with excitement: an ultrathin MacBook Air will be available in two weeks, complete with five-hour battery life and touch technology. Also, Apple CEO Steve Jobs announced new Apple TV software to let users rent movies and share photos from flickr. And not to be lost in the crowd is an iPhone update with several intriguing features such as a GPS locator.
MacBook Air
The highlight of Macworld was what Jobs called the world's thinnest notebook: the MacBook Air is as slim as 0.16 inches at its thin end, and it fits easily inside a manila envelope. The three-pound MacBook boasts a 13.3-inch LED backlit display, a built-in iSight camera, and a trackpad using touch technology found on the iPhone. You can rotate a photo just by sliding your fingers on the trackpad, for instance, which is setting an eye-popping precedent for notebook manufacturers.

The new Apple MacBook Air is the world's thinnest notebook, measuring in at 0.16-inches at its thinnest point and 0.76-inches at its fattest point.
The guts are also impressive: an 80GB1.8-inch hard drives; 1.6 GHz Intel Core Duo 2, with a 1.8GHz upgrade available; 802.11n WiFi and Bluetooth 2.1 + EDR; five-hour battery life; USB 2.0 for charging an iPhone or iPod; and the bundled iLife '08. The MacBook Air will ship in two weeks and cost $1,800. Eco-friendly computer fiends got some good news from the MacBook Air announcement, too: its aluminum case is mercury-free and the circuit boards are made without any PVC. Plus, the packaging has 56 per cent less volume than the regular MacBook.
iPhone Updates
Jobs spoke about the iPhone's popularity, noting it has sold four million iPhones to date (that is about 20,000 phones per day). The pat-on-the-back was all prologue to Apple's updates to its popular phone: new features include GPS mapping, Web Clips (turn a website into an icon), customizable home screens, and the ability to SMS multiple people at one time. All these updates are available free right away.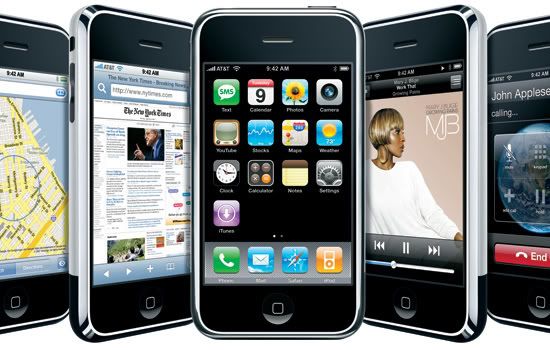 Apple's free software update for the iPhone allows users to automatically find their location using the redesigned maps application; text message multiple people, create clips of favourite websites; customize their home screen; an watch movies rented from iTunes.
The coolest add-on is the mapping function. With just a button tap, the iPhone can now find your position using nearby Wi-Fi base stations or cellular towers. The hybrid map can display satellite or street views. Also worth showcasing is Web Clips — you can create icons on the home screen that take you directly to your fave websites. They can track sites that you frequently check such as news, blogs, sports sites and movie listings.
iTunes Movies
The popularity of iTunes must have given Jobs some ideas on how to strengthen its offerings in the coming year. At Macworld, Jobs introduced iTunes Movie Rentals, explaining how every major studio is on board to bring first-run films to the digital delivery service. He's not exaggerating: Paramount, Universal, Sony, MGM, Miramax, Disney, Lion's Gate, WB, Fox and Touchstone are lending their Hollywood clout to iTunes. More than 1,000 films will be available by February, and they will be online 30 days after their DVD release. Using high-speed AirPort 802.11 wireless networking, you can watch these streaming films instantly, but you'll have 30 days to begin watching the flick and then 24 hours to finish watching the film once you've hit PLAY. They can be viewed on a Mac, PC, iPod or iPhone. However, iTunes Movie Rentals are available in the U.S. only. Standard-definition old releases (like The Matrix) cost $2.99 each, and new releases (like the latest Die Hard) cost $3.99. Rentals in high-def cost $4 for old titles and $5 for new titles. The movie rental service is available as a free software update for iTunes, and iPhone and iPod owners can also get a free update, too.
Apple TV, Take Two
And if you thought Apple wanted to tether you to a computer, think again. Jobs tweaked Apple TV to bring movies to the couch potato. Jobs told the audience, according to a press release:
No more driving to the video store or waiting for DVDs to arrive in the mail.
Apple's new software for Apple TV allows movie fans to rent movies on the iTunes Store directly from their widescreen TV.
That means you can attach Apple TV's box to your set and can then rent films in high-definition.. But that's not all you can do without a PC — Apple TV allows you stream iTunes content from your PC, while also letting you view Flickr photos and more than 50 million YouTube videos. The new Apple TV brings interactivity to a new level — for example, you can view your friend's photos as a slideshow, no PC required. Even more impressive is the ability to view your friend's friends photos, too, through flickr. Apple TV's update is available as a free software update to current ATV owners. Pricing is set at $229 for the 40GB model, and $329 for the 60GB version.
Time Capsule
Want to back up all the Macs in your house with one device? Apple has the answer and it's called Time Capsule, a base station packaged with a server grade hard disk. Available only for Macs running Leopard, users can wirelessly back up all of the data on their Macs, and find lost files easily. If a file is lost, users can wirelessly search "back through time" to find deleted files, applications, photos and other digital media and then instantly restore the file. Time Capsule is available in two models: $299 will get you 500GB and $499 will offer you 1TB. It will be available in February.
iTunes Digital Copy
Amidst the impressive debuts at Macworld, one announcement got lost in the shuffle: Twentieth Century Fox said it will package a digital copy of their films with DVD releases. An iTunes Digital Copy will let customers transfer the film to iTunes, which can then be viewed on a Mac or PC, iPod, iPhone or Apple TV. The Digital Copy will be introduced with the
Family Guy
"Star Wars" parody,
Family Guy Presents: Blue Harvest
, which is being released in stores today.
To see Apple CEO Steve Jobs' keynote address from Macworld, check out this story.