Call it pornovation or sex-tech. No matter the label, the marriage of sex and technology is gaining more attention. And now the Arse Elektronika conference will spend this weekend discussing how software and hardware are getting funky under the sheets.
Digital Journal — From Oct. 5 to 7, a "dungeon" in San Francisco's Porn Palace will transform from a
BDSM
playpen to a lecture stage hosting cultural critics, philosophers, and film directors. But the cultural critic is explaining how "humanimal" porn pushes the boundaries of fetishism; and the philosopher is giving a speech called "A Brief History of Cultural Gentials" and the guest film director is a trailblazer in the punk-porno genre. This ain't your average lecture series. Rather, it is the first
Arse Elektronika 2007: A Conference of Pornography and Technological Innovation
, which is a meeting of geeky minds on the tight (but often overlooked) relationship between sex and technology. The topics range from the future of sex toys to mainstream porn's minimal impact in the blogosphere. One day will host a talk such as "the rise of do-it-yourself pornography" while another day will look at how small-town inventors are creating custom sex machines. To the naked eye (no pun intended), Arse Elektronika has the makings of a revolutionary conference that will open up frank conversations about an issue often whispered about in niche chat rooms. "Many people know sex and tech have been married for quite some time, because it's something we all discuss with friends over a beer," says festival curator Johannes Grenzfurthner from art and technology group
monochrom
, based in Vienna. "We want to combine all the anecdotes and discussions into one conference dedicated to the topic and invite philosophers to give lectures next to guys from the porn industry." Grenzfurthner excitedly explains how this weekend's saucy lectures is biologically necessary. He says:
Human beings are driven by the need for sex and there's no denying we're sexual creatures. And look at how the porn market dictated the winner of the old VHS-Beta war. Undoubtedly, technology and sex have long been intersecting with each other.
Sexual expression and technophile fantasies rarely share the same stage in such an open forum as a public conference, but Arse Elektronika is looking to bridge those borders. Its speakers are known as experts on the cutting edge of sex-tech advances or academics with a long history of dissecting cultural theories on sex. And Grenzfurthner promises the weekend will be filled with educated predictions of how the future will look in this XXX arena. One of the conference's speakers will speak directly on the sexual technology of tomorrow.
Annalee Newitz
is a technology journalist and author of essays about female nerds called
She's Such a Geek
, and her expertise in hi-tech innovation will fuel her discussion of how technology will reshape the sexual experience altogether. She told Digital Journal:
In 10 years, we're going to see the further evolution of transmitting info about sexual responses through various media like wearable computers. We'll record more information about our bodies to transmit over the Net using handheld devices, teledildonics, or other input devices.
Newitz is optimistic that future inventions will shuttle sex-tech hardware and software to impressive heights. She mentions a Cambridge University professor whose hobby is creating biofeedback devices to measure someone's heart rate and galvanic skin response, which is fed into a software program, and then that information is sent to a toy at the other end of the world to dictate whether the toy speeds up or slows down. So cyber sex could soon morph into "telesex" where a New Yorker's intense body heat tells a dildo in Paris to increase its sensuous intensity. Newitz says:
Let's face it, humans are tool-using animals, and look at how Viagra is simply a sex toy administered to the body. What was deemed crazy 20 years ago is now completely acceptable.
Looking to the future, Newitz predicts another burgeoning sexual trend to bubble from the underground: sex in virtual worlds like
Second Life
. Already,
SL members have found ways to engage in realistic sex
in the massive online world, and Newitz considers a hardware evolution like wearable computers as a complementary aid to that cyber sex. She paints a scenario that could complicate the issue in a Web universe where people can become any avatar they wish:
So what if I'm in Second Life and I'm hooked up to wearable computers, and I'm masturbating. My EKG and skin response rates are through the roof, but in SL I'm an octopus. And I'm having sex with another octopus. The big question becomes how the technology can translate my human input into an animal character, and how that can translate back into the input for the person on the other end. Maybe I'm wearing sleeves on my arms that tighten up to simulate excitement. Or maybe I'm wearing a suit that lubricates in response to the stimuli occurring on the other end.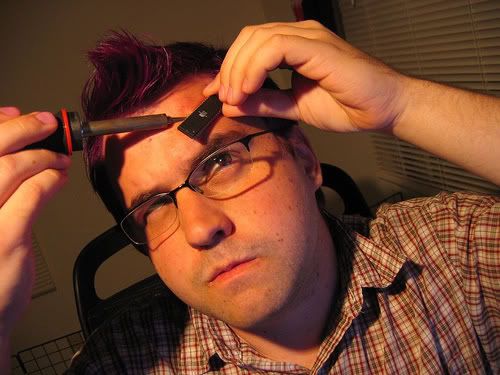 Kyle Machulis is a part-time engineer and part-time teledildonics hacker. He explores how technology is enabling sex toys to become naughty Net machines
Another Arse Elektronika guest known to explore virtual sex is Kyle Machulis, whose talk on the weekend will focus on a topic that has yet to hit the mainstream: sexual interfaces, or
teledildonics
. As an engineer studying how vibrators can work as attachments to machines or Web software, Machulis understands the need to progress past mundane sex toys:
There's a lot of commercial manufacturers releasing the exact same toy, and even those are mostly just speed controls enacted by clicking and dragging over slider bars. And that sucks, because slider bars were not made for sex.
Machulis posts his insight into teledildonics on his blog
Slashdong
, opening the discourse on a tech-related innovation that is still lurking in the shadows. He says the kind of kinky hardware he creates, like pairing a
gaming controller with a dildo
, will remain in obscurity until prices drop and people accept the mainstream use of Net-enabled sex toys. Giving
Digital Journal
a peek into his conference lecture, Machulis underlines several future advancements in sex-tech and teledildonics: in a year, helmets outfitted with neurological sensors enact "brain macro software" to cause an action in a video game based simply on the helmet-wearer's thought.
NeuroSky
is the company attracting the lion's share of attention in this area, especially in light of their
impressive demo
at last year's Consumer Electronics Expo. Also, Machulis points to computer games that already allow for biofeedback systems, like in
Journey to Wild Divine
. Sensors attached to fingers measure heart rate and skin conductance, teaching gamers how to use relaxation techniques to assist them through the game's quest. Sex games can take advantage of these advancements, Machulis says:
Think about bondage through biometrics — someone can be dominant on the other side of the Web, but if the sub doesn't want to tie himself up, the dom can stop what they're doing if the pulse rate reaches a certain level.
Judging by how passionate Machulis, Newitz and Grenzfurthner have become over the sex-tech relationship, expect that excitable vibe to overflow the Porn Palace this weekend. The Arse Elektronika conference has the potential to inform and inspire attendees who may have thought sex belonged in the bedroom and technology in the computer room. It's bound to be an arousing weekend in San Francisco — and we're not talking about the nightlife in the
Castro district
.