The
X-Seed 4000
is planned to be built in the near future, and when constructed fully will span 4 kilometers in height (13,123 foot), 6 kilometer wide sea-base and will have 800 floors with a capacity that could accommodate 500,000 to 1,000,000 inhabitants. It is being designed by Taisei Corporation and will be built on Tokyo, Japan with their main theme for the building is to offer
a futuristic environment combining ultra-modern living and interaction with nature.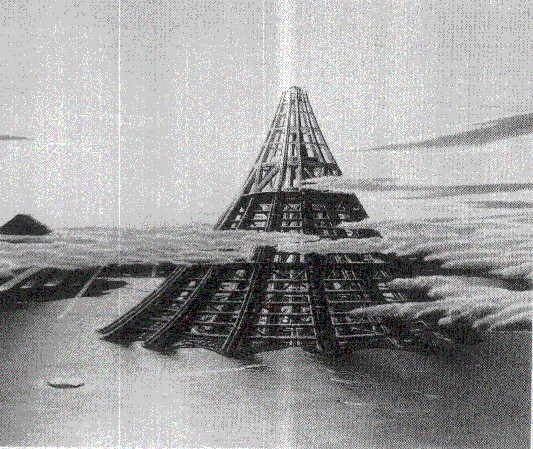 Burj Dubai
currently is the tallest building constructed on Earth with a height of 1,650 feet, but is only one eighth the size of X-Seed (13,123 feet height). The reason it is not constructed yet is because of high projected costs involved.
Unlike conventional skyscrapers, the X-Seed 4000 would be required to actively protect its occupants from considerable air pressure gradations and weather fluctuations along its massive elevation.
The building will most likely be powered by solar power but wind power might also be a possibility. The X-Seed mimics Mount Fuji mountain in its outward appearance but its size is larger than Mount Fuji, which is 3.8 kilometers in height (700 feet shorter than X-Seed 4000). It will likely be built in the sea, because the land cannot hold the massive weight of the building structure. The current estimate to build this structure is between US$300-900 billions. Will it ever be built? Only time will tell and will depend on the necessity, with exploding populations and limited land spaces available then there will be a need for such structures.