Today, a U.S. judge decided the convicted ex-press baron will be granted bail. The prosecution failed to prove Conrad Black was a flight risk, although the disgraced millionaire could still face jail time on his Nov. 30 sentencing date.
By
David Silverberg
&
Christopher Hogg
Digital Journal — A week after being
found guilty of mail fraud and obstruction of justice
, Conrad Black can breathe a small sigh of relief. A U.S. judge decreed he can stay free on bail instead of spending time in jail while he attempts to fight his conviction. On Thursday, Judge Amy St. Eve of U.S. District Court in Chicago allowed the 62-year-old former media kingpin to remain free until his sentencing date on Nov. 30. Although he avoided jail, Black will still be watched closely in the coming months and his passport was revoked. He has been ordered to stay within Illinois, although he has been given permission to travel to Palm Beach and the judge is still considering whether he will be allowed to travel to Toronto.
The Washington Post
reported Black put up his Palm Beach, Florida, mansion as collateral, also freezing assets including a $2.6 million diamond ring and $9 million in proceeds from the sale of a New York apartment. While Black's defence team maintains their client has shown good behaviour in court and cooperated with the judge's orders, the prosecution wanted to prove Black was a flight risk.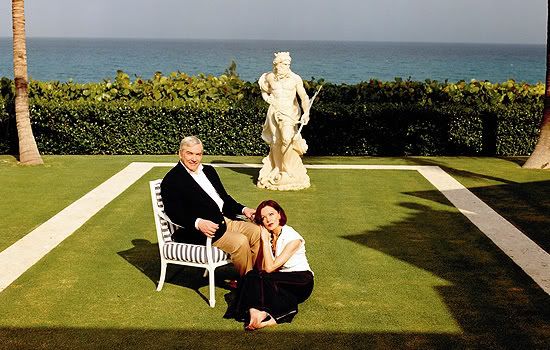 Mongrel Media's documentary 'Citizen Black' tells the story of the controversial media baron during the most tumultuous period of his life, showing Conrad Black's fall from grace and a side of Black rarely seen in public. - Photo courtesy Mongrel Media
According to a filing made by federal prosecutors early today, Black now faces a sentence of up to 30 years in prison. Prosecutors revised his potential sentence (originally 15 to 20 years in prison) on a suggestion from the government that Black already violated his $21 million bail condition, defaulting on $10 million on his Palm Beach mansion. According to court documents, the terms of Black's mortgage meant he had to pay it off entirely by June 15, 2006, but prosecutors said failing to do so means the interest rate on his load is about 26.5 per cent. They say Black continued to make interest payments but the media baron still owes $10 million in principal. The money still owed on his mansion, prosecutors say, means Black defaulted on his mortgage and the bond has not been met. Black is expected to appeal his convictions, continuously insisting the charges against are unfounded. He recently
told the Australian Age
:
We move on to the Court of Appeals and expect to dispose of what is left of these false charges.
In other news, Prime Minister Stephen Harper told reporters yesterday the Canadian government wouldn't block with any attempt by Black to get back his Canadian citizenship or to return to Canada. According to
the Globe & Mail
, Harper declared:
We will not interfere politically in these matters. I have made it clear to our officials that there will be no political recourse.
Black's lawyer, Edward Greenspan, confirmed today that Black did indeed have a temporary residency Visa that would allow him to return to Canada. The visa expires Nov. 27, three days before his sentencing. Last week, Black was found guilty on four counts after a lengthy trial in Chicago. He faces decades in prison and a penalty up to $1 million in fines.