Google is currently working on trying to improve the search interface with a fresh look. It hasn't changed its design very much from its original search page. With this new design, it will give a pleasant feel and look to the users. The big change is the in the navigation menu for the display of the multiple Google services, such as Images, Videos, News, Maps, Mail. And has a further drop down menu gives its other services such as Docs & Spreadsheets, Calendar, Books, Patents searches etc. At the right side of the Google search results page, it gives links for Notebooks, Web History, My Account Sections. Under the search box, it gives a list of related searches, so if you enter an expression, you can check other expressions for better results. Also, it gives search results based on various categories according to news, music, archives, blogs, videos, images, groups etc., How to get this new Google design? Try the following. • First visit the following site,
[url=http://google.com/ncr]http://google.com/ncr
• Paste the following code in the address bar: javascript:document.cookie= "PREF=ID=fddb01133a87d314:LD=en:CR=2:TM=1177334998:LM=1177334998:GM=1:S=OOg0FEVzpPplxe9J; path=/; domain=.google.com";void(0); After this, do the usual Google search; you will see the new design from thereon.
An old design looks like this: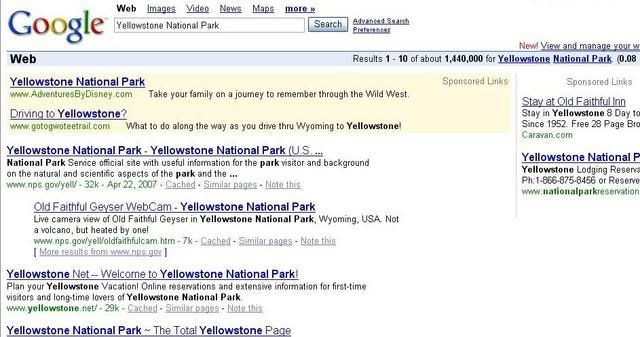 And a newer Google design looks like this:
The above command stores a cookie in the browser, if you don't like it, you can clear the cookie and it will revert back to the old Google search design.